With only one day in Seoul, you will be packing a lot of things to do, however, the itinerary below should give you the feel of the city.
Day 1 Highlights: Gyeongbokgung, Blue house, Bukchon Hanok village, Jogyesa, Insadong, Ikseondong Hanok village (in case of only one day, Namsan park and tower)
Here you will find the general post about visiting Seoul and possible itineraries.
If you are able to walk, you won't need any transport throughout the day, you can walk among the sites. Actually that is preferable, as you will be seeing many things around. Depending on where your hotel is, you may need to take transport to Gwanghamun in the morning and from Myeongdong in the evening (use Naver maps for directions).
Cheongyecheon Stream
If you are a very early riser, you can start your day by walking along the Cheongyecheon stream (if you don't come early, do this in the evening instead). This stream starts at Cheonggye plaza and spans 11km length towards the Eastern side of the city. The restoration of this area was completed by 2005 by then Major of Seoul, who was severely criticized for spending significant amounts of money on this project. However, this stream became a favourite of the locals and visitors alike, with people getting some rest here from the hustle and bustle of the neighbouring streets.
The stream is actually very popular especially in the evenings. It was also features in a number of K dramas, such as Flower of Evil and Lovestruck in the City.
Gwanghamun Square
If you are not an early riser, then you can simply take metro line 5 (there are also other lines going nearby, depending where your hotel is) directly to Gwanghamun. You can grab coffee from either of the two Felt coffee branches (they open early on weekdays – 7 and 8am) near the Gwanghamun square and head to explore the square.
The square remains kind of the heart of Seoul to this day – national celebrations happen here, any huge demonstrations and political events also take place here. This tradition dates back to Joseon dynasty times, when people would gather in front of the Gwanghamun gate to make requests to the king. This square is also featured in K dramas, such as Queen In-hyun's Man (you see the gate here) and King: Eternal Monarch (you can see King Sejong's statue in the background, as well as the full square).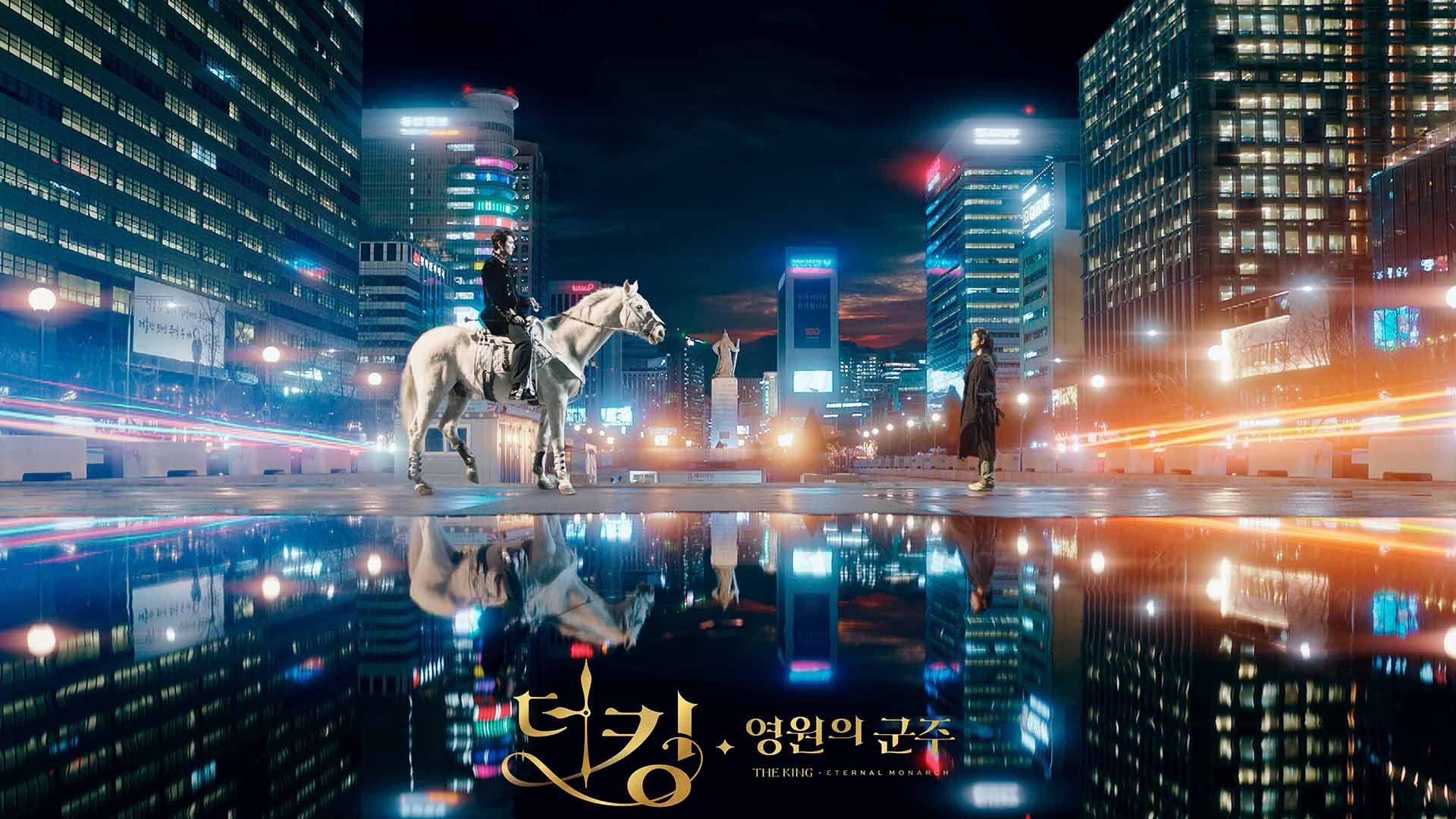 Check out the Cheonggye plaza and the waterfall, then pass the Admiral Yi (known for his achievements fighting Japanese navy) and King Sejong (known for introducing Hangul) statues. From next to his statue, you can access the Story of King Sejong Exhibition Hall, which is a free museum depicting his accomplishments.
After exploring the square, head to the Gyeongbokgung palace for Changing of the Guard ceremony, which starts at 10am.
Gyeongbokgung Palace
Price: 3000 won, free over 65 and a discount for juniors
Closed on Tuesdays
This palace is the oldest and most famous of the 5 palaces in Seoul. Built in 1395 it served as the official residence of the Joseon dynasty intermittently for many years.
Here is the detailed article about what to see at the palace and tickets, as well as the Changing of the guards ceremony.
If you are a history buff and have enough time, before or after visiting Gyeongbokgung, you can head to the National Folk Museum of Korea and the National Palace Museum of Korea. All National museums are free. We skipped this, as there were too many other things we wanted to do.
Cheongwadae – Blue House
The entrance to Cheongwadae is located just across the northern gate of the Gyeongbokgung. So you can easily see it, as soon as you exit the palace. However, if you have only one day and wish to include another spot, you can skip this.
Cheongwadae served, as the official residence of the President of the Republic of Korea from 1948 till 2022. In May 2022, the new President moved the office to the Ministry of Defence building. So Cheongwadae opened to the public for an indefinite period. If you are visiting Seoul soon, don't miss the chance to visit, as no one knows until when it will be open for visits.
The number of visitors per day is limited. Koreans are allowed only with reservation. Officially, non-Korean visitors are allowed in at 9am and 1.30 PM every day, however, we ended up at the entrance at about 12.30, when we were done visiting Gyeogbokgung. We just presented our passports and were let in. I assume not many foreign visitors come here, so they don't strictly follow the timings of entrance. I guess the reason is that we were one of the handful of non-Korean visitors. I believe this is very popular among Koreans at the moment, because it was opened for visits only a short while ago.
I am not sure if you, as a non-Korean can reserve it, but here is the relevant website, if you want to try.
Here is a pretty good map of the park grounds and some more detailed information about it.
While walking to the main building, the first thing you will see on your left is the State guest house building.
The main thing you will be seeing here is the blue building, which is the main office building. Hence, the name – Blue house. This building was used, as the office of the President. Here you find the photos of all the previous presidents on the wall, as well as the cabinet of the president, the reception hall, etc.
Once you get out of the Blue house, follow the road to your left. You will soon end up at the Official residence building, where the President lived with his family. The building was interesting for us because of its wooden exterior. You can't enter it but can peek inside. Then follow the trail southwards to see the buildings for ceremonial events and the gardens.
If you are short on time, you can complete your visit after this and leave from the Eastern gate, from which you can easily end up at Bukchon Hanok village. However, if you have time and don't mind climbing the hills, you can take the Bugaksan mountain trail, which will lead you to nice viewpoints over the city, as well as the Stone Buddha statue.
Bukchon Hanok Village
You can easily walk to Bukchon Hanok village area from Cheongwadae – just reach the Samcheong-ro and find stairs to climb up. There's really no easy way to access these narrow roads but to climb or take a taxi to a higher point (some are accessible to taxis) and then walk down. If you aren't physically able to climb hills, taxi is your only option.
The village is very popular due to beautiful hanoks – houses from Joseon times. Keep in mind that this is not an attraction park. While many houses are turned into museums – including House of Baek Inje, Bukchon Museum or Seoul Education Museum – people still live in other houses.
This popular village was also featured in some K dramas, such as My Roommate is a Gumiho and The Heirs.
Do spend a couple of hours just walking around and exploring the cool houses. As the area is hilly, walking around the area, you can find a few places with views over the village. This one is the most famous spot you probably have seen in a number of Instagram photos. It's almost always crowded, but if you wait a bit, you may be able to get a shot. Here is another cute spot.
Don't miss the traditional tea house Cha-Teul. If the queue is huge, ditch this and try to find another teahouse (possibly Sinyet chatjip off Insadong street, which should be less crowded).
You will find the review of this and other nice tea and coffee places in the area in my blog post here.
If you are visiting during the cherry blossom season, don't miss the Jeongdok Public Library, the yard of which is full of cherry trees. When we visited at the end of March, the cherry blossoms were in full bloom and the library yard was full of people posing for photos. It really is a lovely site.
After you are done walking around the area, choose one of the most popular cafes in the area (Onion Anguk, Layered or Fritz coffee company, for instance). You can find detailed description of each with the map links in my blog post here. If any of these cafes are too crowded, just move onwards to find others. For instance, we did want to visit Café Onion Anguk, however, having looked at the queue, we decided we were not willing to wait two hours for it.
Unhyeongung Palace
After this, near Anguk station, you will find Unhyeongung palace (free). This is not one of the five grand royal palaces and is not on the radar of tourists. However, it was used as a royal residence at various times. It was destroyed during the Korean war and parts of it were reconstructed in 1980s. Do explore the residential and ceremonial halls here and enjoy the quiet after the crazy hustle and bustle of the Bukchon Hanok village.
Jogyesa Temple
After visiting one of the many cafes, walk towards Jogyesa temple – a lovely Buddhist temple near Insagong street. The temple was built in 14th century, but as many things in Seoul, destroyed by the fire. It was subsequently rebuilt in the beginning of 20th century and survived Japanese occupation period.
The temple itself is the biggest in Seoul, however it has smaller grounds than you would anticipate, especially if you have visited other temples around Korea. For us this was the first temple we visited in Korea, so it did fascinate us.
The main hall is open 24 hours, so you can visit any time, day or night – it's beautiful either way. While we were there (at around 3pm) prayer service was ongoing and the hall was full of people.
The temple is beautifully decorated all year round, but if you are there during the Lotus Lantern festival in May, it is supposed to be beautifully decorated and lit.
Insadong Street
This famous pedestrian only street basically starts across the road from Jogyesa. You should visit it during the day, as towards evening, after about 6pm, everything is closed and the street is dead. The street is particularly famous for its art galleries and the vintage shops. You will find various crafts, beautiful calligraphy items, fans, hanboks etc. We explored various shops boasting to be the oldest, showcasing pictures of famous people visiting the stores (we spotted photos of Elizabeth II, for example).
Off Insadong street is the Ssamzi-gil market, where you will also find the Ddong café (in translation poo café). Stop by to have a look even if you don't want to order anything. You can also visit another café nearby. Here is the list of cafes we liked around Seoul, including in this area.
If you are interested in them, you will find Kimchi Museum, Alive Museum and Colorpool Museum here (the last two are included in the Discover Seoul Pass)
Ikseondong Hanok Village
This tiny village area is by far my favorite in Seoul. We visited it on our first day and I made sure to come back on our last day as well. It's just super cute. It has very narrow alleys and is hence pedestrian only. You will find tons of different restaurants and cafes here, as well as fortune-telling stands (these are very popular all around Korea).
We just walked around the whole area exploring every alley at least three times, as it's really tiny. It's very popular among locals as well, especially in the late afternoon-evening hours. Despite the popularity, the cafes here don't have huge queues, unlike in Bukchon Hanok village, so you can find a nice place to enjoy coffee, sweets or food very easily.
Here is the list of cafes we liked around Seoul, including in this area.
We especially liked Appiforet and Chongsudang. Have a look at the links and choose which one you prefer to visit or just walk around and jump into the one you will fancy most. I also grabbed one of the fortune telling balls (they are sorted according to your zodiac sign). I Google translated to read my great fortune 😊 I assume all of them have some nice words in, so it can be a fun thing to do.
Tapgol Park
Unless you wanna stay in Ikseondong forever (I know I did 😊), you can then walk towards the Tapgol park (temple park). The name signifies the 13th century 10-storey pagoda. This is a small park and honestly it's not anything beautiful. You should visit it for its historical significance, as Palgakjeon pavilion in this park was the location of first reading of Korean Declaration of Independence in 1919. You will find several monuments dedicated to this event. There are also ceremonies held here every March 1st.
HiKR Ground (Hi Korea)
After the park you can walk towards HiKR Ground. The place is open till 7pm. We made it here half an hour before closing time, but managed to quickly have a look around and have fun.
This is a Korean Tourism Publicity center featuring various modern things, like K-pop, modern art and architecture. The second floor, where they had the sort of sets of K-pop songs was the most fun. You could change the lighting and scenes as you pleased and just goof around.
Cheongyecheon stream (again 🙂 )
After HiKR closes, you can head to Cheongyecheon stream, which is lighted in the evening. The stream is especially popular in the evening with locals in warmer months, as they sit next to it and chill. There are also various events going on some evenings, so you may come across one, if you are lucky.
By the end of this tiring day you can find food in Myeongdong area nearby. You can just wonder in one of the places, if you like Korean food. Some of the famous places nearby include Gwanghwamun Gukbap, Myeongdong Kyoja and Menten. We aren't experts on Korean food though, so have a look around for reviews.
If you have only one day in Seoul, you should head to the Namsan Tower in the evening. If you have more time however, you should leave it to other days.
Here is the detailed information on how to get to the tower and what to see. 
See also: