The Namsan park with its famous tower is a spot not to be missed on your trip to Seoul. It might be a bit tight, if you only have one day in the city, but if you at least have 2 days, you should definitely include this in your itinerary. You can even squeeze it into a one-day itinerary (find the itinerary suggestions in my post here).
The best time to visit the Namsan park and tower is in the late afternoon-evening in order to enjoy the day views, sunset and the night views. But most people have same idea, so the area is very crowded at that time, especially on the weekends.
You can visit after Namsangol village or come from another part of the city by alighting from Myeongdong metro station.
Transportation
You have several options to get to the Namsan Park and Tower:
Bus #1
(with usual bus fare)
The bus stops nearby Namsangol village and goes quite close to the tower – you will have a small hill left after the final bus stop. Keep in mind this is the only transport allowed here. Taxis aren't allowed to go this much up, so you can't take a taxi, unless you want to walk a lot.
Cable Car
(Round trip fare: 14,000 won, one way: 11,000 won)
To get to the cable car you need to either walk to its lower station (about 20 minutes, more than half of it uphill) or get to Cable car lift. The lift location is a bit farther and it may not be worth it, if you are relatively fit. It's very small and very slow, so you will have to wait a long time for it.
If you want to take the cable car, avoid busy weekend evenings, as the sunset time is extremely popular. If you still choose a busy weekend day, come here with the understanding that you may need to wait for 1-2 hours. Prebooking wouldn't help, as the ticket queue wasn't even 10 minutes long, so this wouldn't shorten your wait time much.
Our visit was after 3 weeks of busy travel itinerary, so we were already pretty tired. As a result, we decided to take the cable car up and then walk down. However, the day we came here first was a busy weekend evening, so the waiting times were over 1 hour, which meant that we would end up at the top after dark, while we wanted to see daylight views as well. So we came back on another day.
The Cable car wait time on a weekday was very short. It was very crammed inside though. Despite the fact that there was only a very small queue, they still shoved too many people in the car. the views aren't bad The ride is short though, so it's not too bad.
Walk Up
If you are sufficiently fit and have enough time, this would be the best way. You have a number of viewpoints on the way.
You have several trails:
You can walk up the trail from the side, where Cable car is or from the Baekbeom Along this path you will encounter the Seoul City wall parts and walk on Namsal Dule-gil – a path which is gorgeous during the cherry blossom and Autumn foliage seasons. You will also find a few photo spots with the views on the way.
Another way would be to walk from where National Theatre of Korea is located. This is another lovely area with the cherry blossom trees (they were already falling, when we visited). Plus, you walk on cute, narrow pathways, including stairs.
One more way is from the South side – Itaewon area. Not sure if the third is in any way picturesque, but I am sure it has its own attraction, as the whole mountain has many hidden gems to explore.
This website provides more detailed info and maps of the trails.
Even if you don't walk uphill, at least take the path down to explore these beautiful areas. We didn't try this at night, but I have seen many photos that the first path is lit and has beautiful views.
The N Seoul Tower
A communications and observation tower – was opened in 1969 and has since become very popular. It is actually a symbol of love for Koreans. The lovelocks here and the tower itself are also featured in numerous K dramas – from the ones I have seen, it's in the Legends of the Blue Sea, Goblin, A Korean Odyssey and My Love from Another Star.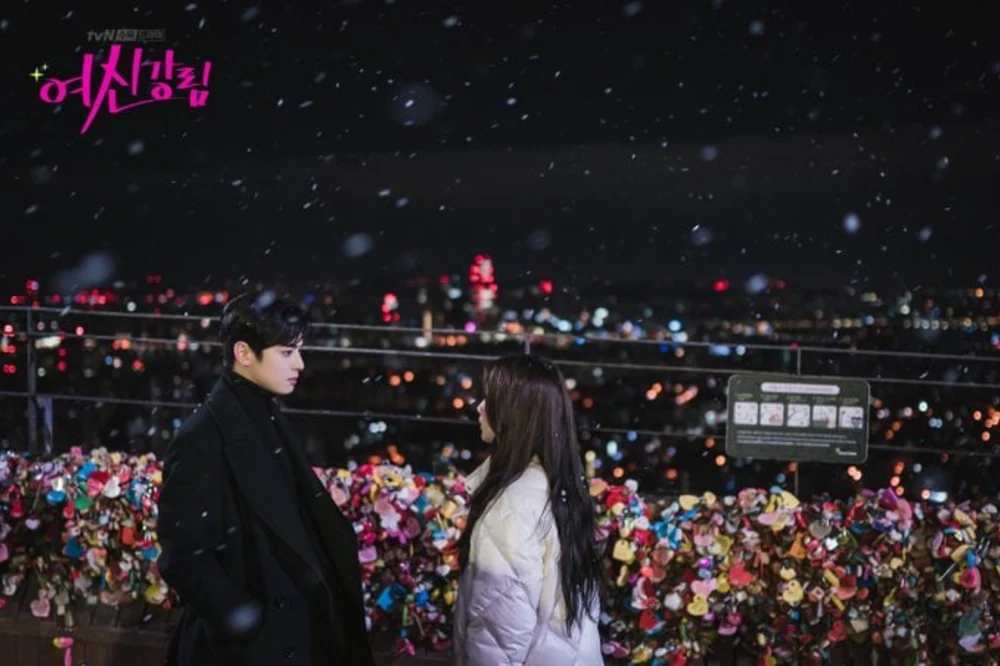 Once you get off the bus or cable car or reach the top by walking, start exploring nice viewpoints and the numerous love locks all around this area.
If you wish to go up to the Observation Deck (it costs 21,000 won to go up to the Observation Deck), you can get tickets on the spot or book in advance through Klook.
As many people will agree, going up the tower itself is unnecessary. You will find a lot of things to do and a lot of amazing views without going up the tower. The mountain itself provides wonderful views and without the dirty glass cover at that. So only go up the tower, if money is no concern and you still want to check it out.  The main viewing area from the top of the hill (not the tower) is quite spacious, so you can easily find a spot to enjoy the view and take photos.
Love Locks
Another main attraction here are the love locks. You will find thousands of them around here. You can join the others and buy exorbitantly priced locks in the vending machine or in the shops here. You will even find a Proposal staircase here, which as the name suggests is often used to make proposals. Another thing is the Tunnel of love, a colorful staircase, which is illuminated at night.
Seoul Tower Plaza
Besides, the tower plaza downstairs has some fun things to do – firstly, have a look at all the cute characters of Linlin land downstairs. Apparently, they represent some of the most endangered species. We found Koalas here, Lemurs and what not. They are just absolutely cute. This area is apparently also the best for sunset views.
You can also enjoy the 3d show in the plaza, try out the massage chairs (we didn't though). Don't forget to look up in the plaza areas to see the OLED panels.
The tower is lit in the evenings in different colors according to air quality. If the air quality is good, it's lighted in blue, red means bad air quality, while green and yellow are in-between.
Once you are done exploring the Namsan Tower area, you can take a transport or walk. I do suggest to walk at least one way or part of the way (using one of the trails suggested above), as it's really lovely experience.
Btw one fun fact – while walking down from the tower towards the National Theatre, we encountered a man, who was walking backwards and uphill at quite a fast pace. We assumed this was some kind of exercise. This was so interesting to see, as he didn't stop or slow down at all.
See also:
Tips and Itineraries for Visiting Seoul